Corporate governance embodies processes and systems by which public entities are directed, controlled and held to account. It defines the distribution of rights and responsibilities among the different stakeholders and participants in the organisation, it determines the rules and procedures for making decisions on corporate affairs (including the process through which the organisation's objectives are set) and provides the means of attaining those objectives and monitoring performance. Importantly it defines where accountability lies throughout the organisation.
In addition to legislative requirements based upon the ELIDZ's enabling legislation and the Companies Act of 2008, corporate governance is applied through the prescripts of the Public Finance Management Act of 1999 (PFMA) and in accordance with the principles contained in the King IV Report on Corporate Governance and the Protocol on Corporate Governance, 2002.
The ELIDZ is committed to upholding the highest standards of corporate governance by complying with legislation applicable to it as well as aligning itself to non-binding rules, codes and standards such as the King report and governance protocol. Parliament, the Executive and the Board of the ELIDZ are responsible for corporate governance.
OUR BOARD STRUCTURE
The ELIDZ Board of Directors recognises the need to conduct the affairs of the company with integrity, in accordance with generally accepted corporate practices, and is committed to upholding the governance principles incorporated in the Code of Corporate Practices and Conduct, set out in the King III Report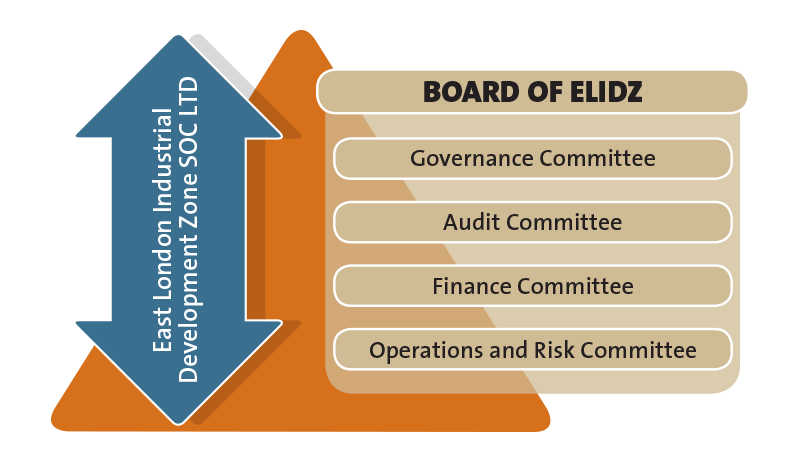 OUR BOARD MEMBERS
PROF MLUNGISI MAKALIMA (Chairman)
Chairperson of the ELIDZ Board and Chairperson of the Governance Committee
Current employment: CPrivate Academic Research
Skills: Academic, Public Administration, Social and Economic Development, International Relations, Leadership and Project Management
Affiliations: Member of IoDSA
SIMPHIWE KONDLO (ex-officio)
Executive Director - Ex Officio
Current employment: Chief Executive Officer of the ELIDZ
Skills: Engineering, Public Sector Governance, Business Management, Project Management
Affiliations: SAIAE, WISA, Board Member of TCTA, Board member of BCMDA, Member of IoDSA
EUGENE VINCENT JOOSTE
Chairperson of the Finance Committee, Member of the Audit Committee and the Governance Committee
Current employment: Consultant at EVJ Consulting (Pty) Ltd
Skills: Supply Chain Management, Public Sector Governance and Finance
Affiliations: South African Institute of Professional Accountants (SAIPA), Institute of Internal Auditors South Africa (IASA), Member of IoDSA
---
AYANDA KANANA
Chairperson of the Audit Committee and Member of the Governance Committee
Current employment:Chief Executive Officer of Land Bank
Skills: Audit, Finance and Public Sector Governance
Affiliations: Member of South African Institute of Chartered Accountants (SAICA), Member of IoDSA
NTOMBENTSHA MNCONYWA
Member of the Finance Committee and the Audit Committee*
Current employment:Senior lecturer in Accounting at the University of Fort Hare
Skills: Public Sector Governance and Finance
Affiliations: Member of South African Institute of Chartered Accountants (SAICA), The Independent Regulatory Board for Auditors (IRBA), Member of IoDSA
MOTSE MFULENI
Member of the Audit Committee and the Operations and Risk Committee
Current employment:Chief Executive Officer of Imbizo Group
Skills: Manufacturing and Development, Telecoms and IT Consulting
Affiliations: Member of IoDSA, Chairman BayTV, President Black Technology Forum (BTF)
---
BONGISIZWE MPONDO
Member of the Operations and Risk Committee
Current employment:Managing Director of Safiri (Pty) Ltd
Skills: Transport Planning, Development Planning, Project Management
Affiliations: Member of IoDSA
NALUKUI CAROLINE KONGWA
Member of the Audit Committee
Current employment:Administrator of the National Gambling Board
Skills: . Legal and Public Sector Governance
Affiliations: Member of IoDSA
AKHO SKENJANA
Member of the Operations and Risk Committee
Current employment:Director: Agro-Processing at DEDEAT
Skills: . Agriculture, Agro-Processing, Project Management
Affiliations: Member of the South African Council of Natural Scientists, Member of the South African Society for Animal Science, Member of IoDSA
---